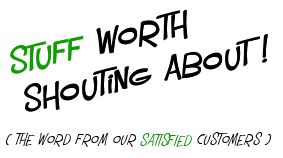 Don't just take our word for it, see what other customers are saying about Hall's Rainsaver: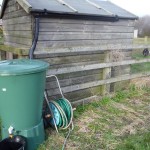 For years I wanted to get a gutter on the greenhouse and never got round to doing it, and when I saw yours it seemed like the answer. It's worked well and easy for me to do. I've got some chickens and ducks 200 metres from the house and a hosepipe, so now with a rainsaver attached to the goats shed with a water butt, I don't need to have this hosepipe laying all over the garden!
Excellent service! I ordered a 2m flexible downpipe with clamp on Dec 30th, which arrived in Guernsey early morning Jan 2nd. The product is exactly as described, of good quality and is now in situ and doing exactly what is required of it. Thank you Hall's!
I have recently had knocked down an old brick outhouse and replaced this with a 7ft wooden shed. As my garden is very waterlogged I wanted to fit guttering to a water butt. After searching and pricing guttering I (and wondering how complicated this would be to fit) I found this website. I ordered the 8ft set which arrived within 48 hours and, surprisingly, I fitted this as it was so easy within an hour of it arriving. To say I am pleased is an understatement.
I have received and installed my guttering kits – amazing – took longer to get the old one off than to install new one. I am a widow, aged 69, so if I can install the guttering anyone can.
Just ordered another 6ft guttering kit, I'm thrilled with this system not only does it collect precious water but the guttering stops water collecting at the base of the wooden bearers of my newly erected shed. A guttering must for every shed owner !
What a fantastic product and service!  Living in north Scotland next day delivery is often not available, but the kit I ordered did arrive the next day and I was able to fit it to my shed in minutes.  I am so pleased to have found this as, like others, I live in rented accomodation and am delighted to be able to take the system with me when I move on.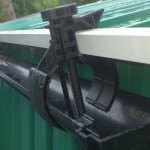 Have just bought two metal sheds and could not use conventional guttering systems without voiding my warranty. Despite reading that the Halls Rainsaver required a roof of a certain thickness in order for the brackets to clamp I tried them anyway. Perfect, they do work on metal sheds as long as the plastic finishing strip for the roof line is used the brackets will clamp around nicely. Sheds in question are the 'Billy Oh Carrington' and the 'Billy oh Beeston' from Garden Buildings Direct. I have no experience with any other make. The flexypipe downpipes have also proved to be worth their weight in gold as I was unable to go straight down to the water butt. These can be found in the 'spares' section. Once purchased delivery was very efficient. Job done!
Ordered late afternoon on the Tuesday and it arrived just after lunchtime on the following day! Guttering up on my allotment shed that afternoon and working fabulously as it rained that night. ordering another two brackets to fit up guttering to other side of shed. service is excellent. Thank you for a fab time saving item. Only wish I'd thought of it first.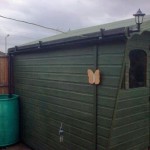 Excellent swift delivery. Product just as described, very pleased with my purchase. Thank you.
I purchased this because, being a walking DIY disaster, I didn't relish the job of installing conventional guttering on my new shed. Delivery came on the day specified, assembly was so simple even I managed it first time,and fixing to the shed couldn't have been easier. A tremendous innovation, which I'm delighted with – 10/10!
Do you have a testimonial to add? Please leave it in the comment box below or email us at our support email address. You can also email us a picture of your Rainsaver installation and we'll gladly attach to this page!