The award winning simple solution for garden building guttering...
Innovative shed guttering installs in an instant - no tools or expertise required
It's universal - fits any shed* or similar garden building, sizes from 4ft - 20ft
It's unique - specially designed brackets take standard 3" (76mm) mini guttering
It's movable - fill multiple water containers with just one Rainsaver Gutter Kit
Collect the rainwater where it is needed (in the garden or allotment)
Environmentally friendly - save gallons and gallons of water
The versatile, cost effective guttering and rainwater saving solution
Five year guarantee and available in multiple kit sizes or just the brackets
New flexible downpipe option enables water to be piped round corners, almost anywhere!
... or indeed practically any sloping surface around the house or garden!
* fits up to 3" deep fascia
Did you know a 6ft shed can collect on average 1,818 litres of water per year per side of the roof? That's over 400 gallons of water available to be harvested for free - double that for both sides of the shed!
See how easily the Hall's Rainsaver installs in this short video clip...

Don't just take our word for it...

"Although I'd heard about this product, I was stupid enough and impatient enough to go ahead and purchase regular guttering one Saturday when we were at the local Jewson's. What a nightmare that turned out to be! I gave up and wrote off the cost of that, and instead ordered the 12 foot rainsaver kit. It arrived within 48 hours and was up and on the shed within an hour. Fantastic product."
R. Povall, Devon

See more customer opinions
Collect clean, environmentally friendly rain water for free, directly in the garden and save money on tap water bills. A garden building is the ideal place for a rain saver.
The Hall's Rainsaver easy fit gutter kits include everything you need, but the butts!

6ft - Pre-cut length of gutter with stop-end outlet, pre-cut length of downpipe, stop-end and two Hall's Rainsaver brackets.
Watch the prototype Hall's Rainsaver in action...

Multiple Butt Capability without additional components.
The repositionable Rainsaver Gutter Kit can make filling up multiple water containers easy. Without any tools, loosen the brackets and place around the other side of the shed or simply slide off and back on the other way round so the downspout is at the opposite end, or slide along to fill another water barrel. Even unclipping the downpipe and swapping ends is easy as everything is hand-fit. Fill a shedload of butts with buttloads of water.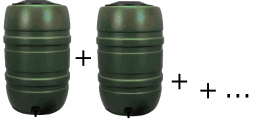 So simple. So effective.
On larger sheds, longer guttering kits are in our shop, or for just rain saving you can use the 6ft standard kit - just loosen the brackets and move along to fill up more rainwater containers - the Rainsaver does not need to fit the whole roof length to collect gallons and gallons of water!
As standard 75mm mini guttering is used, extending the length is straightforward (we sell spare parts) or for really long sheds you could even utilise two Rainsaver gutter kits to fill two butts at the same time.
The sturdy rainwater collection system withstood the very strong winds and heavy weather during initial product testing in winter 2011/12.
Universal - fits the majority of sheds, summer houses, garages, etc (any length overhang, fascia depth from 8 to 76mm - 1/3" to 3"), check yours for compatibility here
Read more about this great new rain saving product via the links on the above left. Nobody else makes an easier fit rain saver gutter kit.
Interested?
Order your Hall's Rainsaver Shed Gutter Kit now by clicking here.
Hall's Rainsaver Mini Guttering Brackets also available separately from £6.40 each inc P&P (in a 5-pack)
See the Hall's Rainsaver Online Shop for the full range of accessories.
Free Mainland UK delivery for orders over £75.00
Not interested?!
Please take 20 seconds to let us know why - we don't bite and we actively encourage feedback!
Registered Designs #4028783, 4028784, UK Pat. No 2509850 and Worldwide Patents Pending
We were at GLEE Stand 5E64