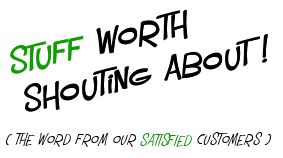 Don't just take our word for it, see what other customers are saying about Hall's Rainsaver:
Received my rainsaver yesterday and within 20 mins I had attached it to my shed.As a 72yr old female it was very very easy.Great product thank you
Great little invention. Easy to install and works well on the shed even with felt!
Good product, good prices, very good delivery, another job done.

Had problem with payment, you replied to my email instantly ,problem solved.

Well done, Many thanks,
Apart from a bit of trouble with the connector bracket, I managed to put this together in 10 minutes!  I needed help from my husband holding up the guttering whilst I clamped it onto our new Keter shed,but it really was so easy!  I'm waiting for it to start raining now!
Received my Rainsaver and I'm absolutely delighted. I have a great new shed and needed new guttering. I'm a complete duffer at DIY so this was an ideal solution. I was sceptical because I've tried many revolutionary new ideas over the years and been disappointed. This product is superb. Installed in 15 minutes.

Exactly what I needed. Thank you.
Left positive comment on Ebay where we ordered kit 12ft & flexible downpipe.

Due to my injuries my wife (68yrs) fitted this to shed roof 15 to 20 mins.

This has saved us the cost of fitting.

Brilliant idea.
I received my kit today,thank you Mr Hall.As promised the fitting couldn't be more easier.Its just what I needed for my Keter plastic shed,as screws and holes would be no good to me!The service and communication was faultless.The delivery and tracking was perfect.An all round success.Thankyou again.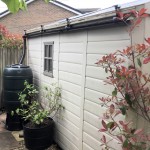 Great bit of kit! Exactly what I was looking for – no drilling and therefore zero damage to our Keter plastic shed. 10-15 minutes and the guttering was in place.
Just wanted to say thankyou for fast delivery & a excellent product fits in minutes & looks great on my new workshop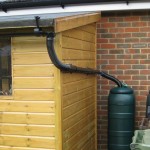 For somebody with limited DIY skills, it was a relative breeze to install a gutter on my Skinners pent shed using Hall's Rainsaver kit. After removing the largely cosmetic fascia board, the clamps secured the gutter well. Round the corner with a flexible pipe and into a water butt at the rear. Hall's put the order together for me to ensure I had all necessary items (and none in excess), and all received the same week. Total cost of £100 including water butt (bought separately).

Well satisfied! It's surprising how fast the butt fills up in these rainy months – maybe I should have  got a larger butt?
Do you have a testimonial to add? Please leave it in the comment box below or email us at our support email address. You can also email us a picture of your Rainsaver installation and we'll gladly attach to this page!