This page is a summary of our delivery policy with further information such as costs etc and should be read in conjunction with our full terms and conditions of sale including our returns policy.
We deliver internationally too! See bottom of page for details.
Despatch Timescale and Delivery details
Orders received before 12pm on a working day will be despatched the same day (except winter hours 1st Nov to end Feb when we only open Tue & Fri). Orders received after 12pm on a working day or at weekend or on a public holiday will be despatched the next working day. Sometimes orders received after 12pm may be despatched the same day but this cannot be guaranteed.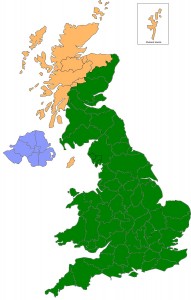 Carrier delivery for UK Mainland (shown in green on map to left – click to enlarge) is a subsidised £12.96 for Gutter Kits and other large or heavy items.
Small items are sent via Royal Mail across the UK without surcharge.
Spend over £100 and delivery will be FREE (subject to additional charge for extended area destinations – see postcode list below)
Most carrier orders will be shipped via Fedex, Parcel Force or UPS to UK Mainland only. Whilst the majority of orders are delivered within 2-3 working days from despatch, regrettably this is not a guaranteed service.
Please see COVID-19 special information. If you require a quicker delivery at additional cost please get in touch.
Standard carrier delivery for UK Mainland excludes the following postcode areas:

Extended area carrier surcharge Postal Codes (surcharge zones)
| | | | | | |
| --- | --- | --- | --- | --- | --- |
| From | – | To | From | – | To |
| AB31 | – | AB31 | AB33 | – | AB38 |
| AB45 | – | AB45 | AB52 | – | AB56 |
| FK19 | – | FK21 | | – | |
| HS1 | – | HS9 | PA20 | – | PA39 |
| IM1 | – | IM99 | PA40 | – | PA49 |
| IV1 | – | IV3 | PA60 | – | PA80 |
| IV10 | – | IV28 | PH17 | – | PH26 |
| IV30 | – | IV32 | PH30 | – | PH44 |
| IV36 | – | IV36 | PH49 | – | PH50 |
| IV40 | – | IV56 | ZE1 | – | ZE3 |
| KA27 | – | KA28 | TR21 | – | TR25 |
| KW1 | – | KW17 |  BT | – |  BT |
If you live in the above areas, we can deliver but an extended area surcharge is imposed by the carrier, please use the appropriate delivery Region option during checkout. Regrettably we cannot accept an order to an extended area without the appropriate payment to cover the additional cost.
If you place an order to an area that incurs an unforeseen additional cost or where we cannot deliver we will contact you to discuss.
Saturday carrier delivery additional £24.00 – if this is needed, please request prior to ordering.
Smaller orders will be shipped via Royal Mail, there is no surcharge for these areas. Please note there is no despatch email sent for such orders, please be assured despatch will be made per above timeframes unless otherwise notified.
Alternative delivery address
If you choose to deliver to an address other than the cardholder's address, this is normally OK but further checks may be carried out and this may delay your order. We cannot promise to despatch the same day in these circumstances.
Signing for delivery
Given the Covid-19 situation the below paragraph does not currently apply – however please do check the goods on arrival – any damages must be reported immediately and please retain the packaging.
When accepting delivery of the parcel, you are signing for it in good condition. If there is any evidence of rough handling (our kits are always shipped in brand new boxes without any dents nor squashed in any way), please sign for the goods as damaged (or if very damaged, e.g. bent in half, bits clearly broken, please refuse the delivery). This will help in the event of any claim for damaged components – also please retain all packaging whilst a claim is in progress as an inspection may be required.
What happens if you are out when the parcel arrives?
The courier will attempt to deliver the parcel twice (leaving a card) before returning the parcel to us – an additional charge to cover the return and original delivery cost is levied if this occurs.
Deliveries made by courier are charged to you at a discounted rate and should you wish for us to re-send your parcel you will be charged at the true cost to us. Please note that for items that were undelivered through fault of the customer, and a refund is requested, we reserve the right to deduct our costs from the refund total.
Responsibility cannot be taken for wrong orders, or non-delivery resulting from incorrect information or addresses provided. In these circumstances you may be responsible for the cost of delivery and return of goods.
No party shall be liable for any failure to perform its obligations where such failure is as a result of circumstances beyond reasonable control such as (but not limited to) acts of nature including earthquakes, cyclones, storms, flooding, fire, disease, fog, snow or frost, war, accidents, acts of public enemies, strikes, embargoes, perils of the air, local disputes or civil commotions, national or local disruptions in air or ground transportation networks or mechanical problems to modes of transport or machinery, or criminal acts of third parties.
Late and Lost orders
In the unlikely event that your order should fail to arrive within our delivery period, please contact us along with your order number and we will carry out a thorough investigation with our carrier and endeavour to get your package delivered to you.
Should you wish to cancel your order once it has been despatched by us you will be liable for any cost incurred by us for the return of goods as well as the original charge for sending the goods. Any refund therefore will have these charges deducted from the refund total.
If your order has failed to arrive within 10 working days from the date of despatching your order it is deemed by us as lost. Should you fail to report to us that your parcel has not arrived within this time and we have a confirmation of delivery from our carrier we will be unable to claim for loss of the item from our carrier and therefore unable to replace your goods. Should you refuse to sign for your package within this 14 day period you will be liable for any cost incurred by us for the goods being returned back. Once we are able to establish that the item is definitely lost we will redeliver the goods, this may take up to 30 days from the date of posting.
On placing an order should you request the parcel to be left without a signature (i.e porch, garage, back garden etc) you shall be liable should the parcel not be received. In these circumstances we cannot take any responsibility should the order not be received. Parcels left without a signature are at the discretion of the driver.
We cannot be held liable for any loss including consequential loss if a product does not arrive on time.
International orders
Our updated checkout system can calculate the shipping charges for you before entering any personal details. If you live in a country that is not listed during checkout, please contact us before ordering. Basic international delivery rates for Gutter Kits vary from £60.00 to £120.00 depending on location and timeframes from 2-7 working days. Brackets and other small items are considerably less expensive, with delivery rates from £5.00.
International customers are solely responsible for any customs or tax charges on entry into their country.