Where is the Rainsaver produced?
We are a British company and the whole kit is sourced and packaged within the UK. The brackets are being manufactured in the south of England.
How long does it take to install?
Seconds! Fitting is performed by simply sliding the brackets on the gutter, and attaching to the roof of your shed with a turn of a knob. The downpipe and stop-end (to keep water going down the downpipe) simply press into place. See the one-minute video.
How does the Rainsaver stand up to the weather?
It loves the rain – the more the merrier!
It also doesn't mind the sunshine too, since it is manufactured using UV stabilised materials.
As for wind, it copes admirably with that too – during our product testing the Rainsaver coped with the heavy weather and high winds of 2011/2012 without batting an eyelid.
Will the brackets fit corrugated (onduline, coroline etc) roofs?
We have customers successfully using our brackets on corrugated roofs of different materials. The only requirement is that the roof is strong enough (doesn't flex/bend at the edge) and some packing material like a small block of wood will be needed to help each bracket clamp to the edge. We recommend one bracket per 3ft (around 1m) of roof.
How is the guttering angled for a slope/fall?
The guttering does not actually require to have a slope as water will always find its own level. Providing the building is itself level water will flow out. As the guttering is 32mm deep, an inconceivably large amount of rainwater would be required to fill and overflow. House guttering on the other hand takes a fall into account simply due to the massive roof area, heavy flow and long guttering runs, in comparison to a typical garden building. Such a fall is typically only around 1/4″ over 10ft in any case, and guttering can flex more than that along its run!
However if you really wanted to lower one end (if roof is not level etc) then a small packing material such as a block of wood could be placed between the lower clamping part of the bracket and the building if suitable.
Water missing the guttering?
Some customers have reported that when testing after a new installation that water misses the guttering!
In almost all cases it's because a bucket of water, hosepipe or watering can is not a realistic representation of rainfall which drips both in an irregular manner and in varying sizes, with a much larger spread.
Rainfall therefore tends to dribble down the front fascia and drop into the gutter from the lower edge of the roof, whereas pouring water from a hosepipe, watering can (without a really fine rose) etc on a roof to test guttering will tend to sheet and 'tear' (or curve) off the edge and miss due the increased unrealistic flow rate.
Particularly on a new roof the materials are also slightly hydrophobic – seen as water droplets remaining globular in nature. Over time, microbial growth, dirt etc on the edge of the roof also contributes to the water flowing around and off the bottom edge as the surface area increases and the materials become slightly more hydrophilic (water loving).
We just ask customers to give it a few weeks at least and watch the behaviour with real rainfall; we'll gladly help out if there are further issues but on such advice – after seeing real world conditions – not a single customer has reported failure of the product to perform!
Does the Hall's Rainsaver fit Keter Plastic Sheds?
Yes, indeed many customers have these type of sheds and have installed the Halls Rainsaver Kit in seconds. One example is below. Image of 6×4 Keter Plastic Shed courtesy of G. Ferguson, Sale
However we understand that the Keter Artisan is not capable of guttering due to having no suitable overhang.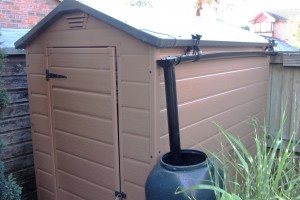 In some exceptional cases depending on the plastic or construction used on certain individual Keter sheds, the roof surface may be very shiny which can cause the brackets to slip.
In these cases we recommend the use of a bit of non-slip matting (like the rolls that can be bought for car dashboard/kitchen surface/drawer liner) between the bracket and roof to provide extra grip.
I've got a summer house, does the Rainsaver fit this?
Depending on the make-up of your summer house roof, there's a very good chance it will fit. Summer houses tend to have a slightly sharper angled roof than a shed but this is no problem since the Rainsaver bracket cleverly allows rotation of the gutter to fit up to 33 degrees of roof pitch, a typical shed roof is about 20 degrees.
Will the Rainsaver brackets fit my greenhouse?
The difficult answer is it depends. If the aluminium struts between the panes of glass overhang, have a minimum thickness of 8mm (1/3 inch) and are 25mm (1 inch) or greater in width, then yes the brackets will fit without any modifications. If unsure, please contact us first so we can help.
How much water can I save with the Hall's Rainsaver?
Data sourced via the Met Office courtesy TORRO, states the average UK yearly rainfall between 1910 and 2012 is 1091mm (1.091 cu m of water per sq m).
This means half a 6 foot shed roof (6ft x 3ft area, 1.66sq m) can collect, on average, 1,818 litres of water (that's over 400 gallons) a year!
Since the Rainsaver is movable, you can fill up one butt, and move the Rainsaver to fill up another butt.
On larger sheds, such as a 12 x 10 foot shed, the roof area captured by a single 6ft Rainsaver is approx 6ft x 6ft area, equating to around 3,648 litres of water, over 800 gallons a year on average, double that if full length kit and 4 times that if both sides are kitted up!
What can I use to save the rain water?
You can use any container large enough to collect the rain water. A dedicated water butt or water barrel will work fine as would any large container.
Of course one of the major benefits of the Hall's Rainsaver is that you can reposition the gutter to fill up multiple water containers.
What is the point in saving rain water from a shed?
There are many reasons why you would like to save rain water from a shed.
First of all, normal rain diverters that fit house guttering are sometimes tricky to install, they require cutting of a section of your house downpipe, and must be at the correct level. With a normal rain diverter, additional downpipe brackets may be required to support the downpipe once you have cut it. On top of that, you have to place the water container next to your house, which may not be too pleasing on the eyes.
With the Hall's Rainsaver fitted to a garden shed, there's no cutting or altering your house guttering, and the clever design of our patent pending brackets mean you can easily reposition your gutter to fill multiple water containers whilst maintaining your house aesthetics!
Also think about where you are most likely to want to use your water – in your garden. Your shed may actually be a better location, closer to where you wish to be using the water you are collecting.
My cat/dog/goat has eaten a bracket. Can I order spares?
Can I order the Rainsaver over the telephone?
Yes, please see our telephone hours, feel free to call! You can always order online 24×7, 365 days a year too.
What guarantee does the Rainsaver come with?
We guarantee against defects in manufacturing or workmanship for a period of 5 years from date of purchase. If your Rainsaver develops a fault please get in touch and we'll gladly help in any way we can. Our full guarantee statement is included with our Installation instructions.
What is the Rainsaver made from and can it be recycled?
We are using standard PVC-U for the guttering and glass filled nylon, both which are inherently recyclable materials. You may find out more about recycling opportunities with your local council.
All components have UV stabilisers added so they are designed to work outdoors without fading or going brittle.
There's nothing to rust or corrode either!
My question isn't listed, what next?!
If you have a question that isn't answered above, please contact us so we can answer it, and maybe add it to this list!