Hall's Rainsaver Ltd selected as Finalist in Local Business Accelerators
The innovative company that produces novel hand-fit rain saving guttering kits for sheds and other garden buildings has been selected as a finalist of the Warrington Guardian Local Business Accelerators programme.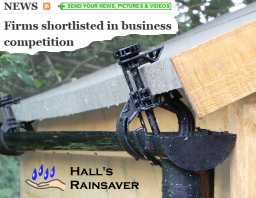 The Local Business Accelerators programme – fronted by Dragons' Den's Deborah Meaden and supported by the Business in You – is an initiative by the Newspaper Society and regional press industry aimed to boost local businesses through support in the form of business mentoring and free local newspaper advertising.
The Warrington Guardian judging team were impressed with Hall's Rainsaver Ltd's application and have shortlisted the company as a finalist, invited to present the business and strategy to the team in more detail on 1st February. Once final selection is made, the successful business(es) will engage in a three-month period of business mentoring and advertising with the local paper.
Keith Hall, MD, comments: "As a relatively late entrant, I am pleasantly surprised that the business has been chosen as a finalist and also grateful for the opportunity to present to the panel. In our current growth phase I am very much looking forward to the possibilities that may arise should we be selected as a winner! We have a product that makes life so much easier in saving rainwater for re-use and is still quite a hidden gem."
The Hall's Rainsaver Gutter Kit is unique in that the special brackets supplied in each kit requires no tools to install, and are made to measure, fitting practically any sloping surface around the garden such as shed and summer house roofs. Furthermore, the product can be moved if desired, to fill even more containers, such as all around a 6ft shed on an allotment, so saving even more water.
Each comprehensive Rainsaver Kit of various sizes includes everything needed (guttering, brackets, connectors, downpipes etc) except the water container. All the kits are designed and manufactured in England from weather resistant recyclable materials and branded mini guttering, guaranteed for five years. The company is pleased to welcome orders large and small, and with weather uncertainty likely to continue, help save a shedload of water!
Discover the product further at the website https://hallsrainsaver.com
About the company
Hall's Rainsaver Ltd was incorporated in September 2011, and since the product has been available from mid-2012 it has garnered interest and bulk orders from garden building manufacturers, garden centres, water authorities, allotment societies, city councils and the general public through the website https://hallsrainsaver.com and also direct despatch through online retailers.