The Ideal Gift for the Stymied Gardener
If installing guttering to a garden building has been perpetually put off, Hall's Rainsaver has the answer with their ingenious invention.
Hall's Rainsaver, the great new British invention designed to save water in increasingly unpredictable weather, uniquely solves the painful problem of fitting guttering to the many various styles of garden buildings, saving both time, money, and water.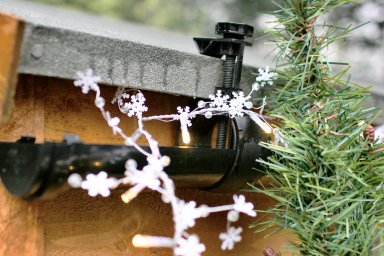 The Hall's Rainsaver is a kit that is sold in various lengths to fit any garden building with a roof edge up to 3 inches thick, and no cutting, sawing, hair-pulling or DIY expertise is required.
Uniquely fitting by hand without tools, the patent pending gutter brackets enable mini guttering to be installed in literally minutes even on the most trickiest of garden buildings where conventional guttering does not fit.
Each comprehensive Rainsaver kit of various sizes includes everything needed except the water container. All the kits are designed and manufactured in England from weather resistant recyclable materials and branded standard mini guttering, guaranteed for five years. The company is pleased to welcome orders large and small, and with weather uncertainty likely to continue, help save a shedload of water!
Hall's Rainsaver Ltd was incorporated in September 2011, and since the product has been available from July 2012 it has garnered interest and orders from garden building manufacturers, garden centres, water authorities, allotment societies, city councils and the general public through the website https://hallsrainsaver.com and other online resellers via direct despatch.