New Superior Simple Fit Rain Saving Product at the 2012 Southport Flower Show
Following hot on the heels of a successful week at The RHS Flower Show Tatton Park, Hall's Rainsaver Ltd are pleased to announce the exhibition of their innovative versatile water saving product at the Southport Flower Show from 16-19th August.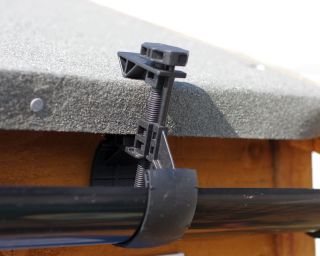 Installed in seconds and highly affordable, the Hall's Rainsaver Movable Gutter Kit for Sheds proves popular with gardeners, allotment owners and anyone interested in collecting rainwater or simply channelling water to better places. Due to the special patent pending bracket's ability to fit practically any roof edge from 10mm to 76mm in depth and still be in the optimum position, rainwater can be collected from places that otherwise would be difficult to obtain.
The company is showcasing their product on a real shed at the Southport Flower Show where the ease of use and simple design can be demonstrated. With everything supplied but the butt, a special show price of just £29 is being offered for the full kit, and brackets also separately available at just £6.
Discover the invention by visiting the stand at G16 at the Southport Flower Show from 16th to 19th August 2012. Further information can be found at hallsrainsaver.com
About Hall's Rainsaver
The Hall's Rainsaver Shed Gutter Kit was designed to fulfil the needs of many gardeners and allotment owners by providing a versatile system that is not only really simple to fit, but allows for movement to fill up multiple water containers without any additional plumbing or DIY knowledge. Save a shedload of water!