Spring is coming! Time to think about the shed – and the shed guttering!
Spring is nearly here, and with it comes the nicer weather that makes us all feel good and get out there in the garden or allotment.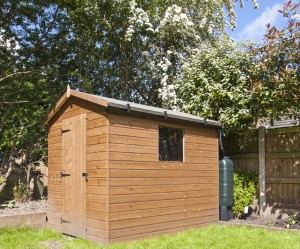 If you have a shed or thinking of getting a new shed, why not get some shed guttering to protect that investment and save water at the same time!
Our shed guttering kits are ideal as they are not only ridiculously easy to fit but also are moveable, which makes the job of painting or protecting your shed much easier too! Most other shed gutter kits are labour intensive and often possibly not including everything you need depending on the length of overhang and roof angles involved.
We've been told more than once that it takes longer to get a Hall's Rainsaver Guttering Kit out of the packaging than it does to install!
Click here for our online shop to take a look!
Our guttering brackets fit all standard 3″ (75/76mm) half round guttering so if you are more DIY minded and fancy saving a bit on the postage cost by all means you can still buy our brackets separately to go with your locally sourced guttering components if you prefer.