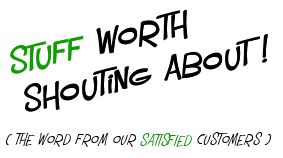 Don't just take our word for it, see what other customers are saying about Hall's Rainsaver: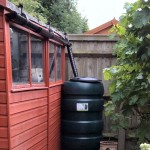 Very easy to install, I  installed the 8ft length single handedly. Works a treat!

Keith at Hall's Rainsaver Ltd was very helpful and patient.
Arrived next day as promised and it was on the shed within minutes of arrival.! Fits perfectly on my Keter shed – now just looking forward to some rain!! many thanks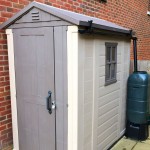 Very pleased with this. Easier than easy to put up. I found it incredibly easy to fit, only double checking with the instructions that I was doing it in the right order. It almost flew itself onto the shed. The only negative thing I would say is that it is perhaps a bit pricey – but given the quality and ease of it, it is well worth the money.
The guttering was very straightforward to put up. I was very impressed with how quickly you sent me a replacement end stop, as the original had snapped on attachment. Many thanks.
Absolutely fantastic. Super fast delivery. So easy to install. Would recommend. Thank you so much
Cannot recommend too highly. Helpful & courteous to someone not sure she could tackle the job and when the product arrived less than 24 hours after ordering, I found it fitted like a dream. If all jobs were as easy as this! Thank you.
Wow ordered on the 18th, delivered by post on the 19th, cant better that. System wonderful, have just put this system on a wooden cabin in my garden, so simple but so effective, many thanks.
What an amazing kit this is its so easy to fit in place and we are not a diy family at all and with a few tips from Keith who is so helpful we had it up in a few minutes.  It was nice not to have to worry about drilling or screwing it in place its a great product and the delivery was so quick it arrived the next day as promised.  Very pleased with it and a clever idea.  Thanks Keith!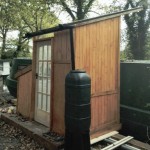 Just wanted to drop you a quick message to thank you for all your help regarding the rainsaver. It arrived in perfect condition on Monday morning, and was in place two minutes later. The rain we've had over the past few days has put it to the test and it has responded magnificently. The only adaptation I have made is to put a small shim between the roof and the lower jaws of the clamp nearest the down pipe, as the angle without it was not allowing the water to fully drain away (more a reflection on my construction than your product!)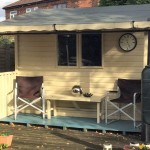 Just thought you might like to see our recently purchased guttering in place.

Very pleased with the results, thanks.
Do you have a testimonial to add? Please leave it in the comment box below or email us at our support email address. You can also email us a picture of your Rainsaver installation and we'll gladly attach to this page!