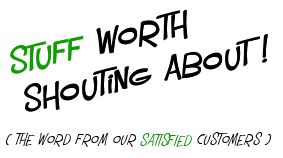 Don't just take our word for it, see what other customers are saying about Hall's Rainsaver:
Wow ordered on the 18th, delivered by post on the 19th, cant better that. System wonderful, have just put this system on a wooden cabin in my garden, so simple but so effective, many thanks.
What an amazing kit this is its so easy to fit in place and we are not a diy family at all and with a few tips from Keith who is so helpful we had it up in a few minutes.  It was nice not to have to worry about drilling or screwing it in place its a great product and the delivery was so quick it arrived the next day as promised.  Very pleased with it and a clever idea.  Thanks Keith!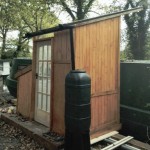 Just wanted to drop you a quick message to thank you for all your help regarding the rainsaver. It arrived in perfect condition on Monday morning, and was in place two minutes later. The rain we've had over the past few days has put it to the test and it has responded magnificently. The only adaptation I have made is to put a small shim between the roof and the lower jaws of the clamp nearest the down pipe, as the angle without it was not allowing the water to fully drain away (more a reflection on my construction than your product!)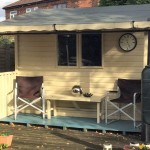 Just thought you might like to see our recently purchased guttering in place.

Very pleased with the results, thanks.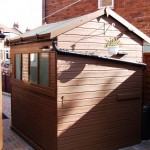 This is my Halls Rainsaver kit plus extras, now fitted on my shed, the shed itself is over twenty years old and its only that we have had the all the driveway and past the house side etc all block paved recently and rain was running off the shed roof and starting to spoil the paving that runs down the side!…..but not now and I now have two water butts to water the garden with……..the installation is a little bit "overkill" as the location of the guttering required was away from the most convenient place to put the waterbutt as you can see in photos but its good enough!
brilliant piece of kit. easy to install and it works a treat. Even impressed my partner which is amazing in its self!
I live in a Bovis built house that this year is forty years old. Crap would be a kind way to describe the builders of 70's housing. On the outside of my house is a "Porch" it consists of a tiny entrance hall and next to it an external utilities cupboard. These are covered in a flat roof with an internal rain pipe from a roof gully. When it rained today the flat roof overflowed into my house. The rain pipe was blocked with the loose chippings covering the roof.

Your bendy pipe was fitted in seconds! Brilliant idea.

Laurent
Excellent product. Glad I surfed the net and found this ingenious bracket. No cutting wood or screwing endless brackets etc. So very easy, quick to fit and neat looking too. Extra fast service to deliver, cant praise them too much. Many thanks Hall's.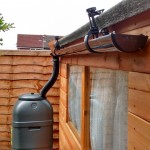 My kit arrived on the day as promised, and was installed in 20 mins. It would have been less, but I wanted to either fit the diverter that came with my water butt, or work out a way of fitting the flexible pipe to the butt with the lid on. The only tool I ended up using was a Stanley knife to cut a hole in the edge of the lid to fit the flexi pipe through. And I like the option to be able to move the water butt from one end of the shed to the other, or round the corner, depending on where I find it easiest to use.

Brilliant product, just as described, excellent sales service and so glad I found it.
The shed refurbishment is complete but now for the awkward job of fitting some form of guttering!

Surfed the net and found your product advertisement and placed our order, which arrived in double quick time and was installed as suggested quickly and without problems.

I am now sat in the conservatory with a thunderstorm overhead watching the guttering being well and truly christened !!!

Many thanks for producing such a well thought out product which certainly gets my vote of approval.
Do you have a testimonial to add? Please leave it in the comment box below or email us at our support email address. You can also email us a picture of your Rainsaver installation and we'll gladly attach to this page!