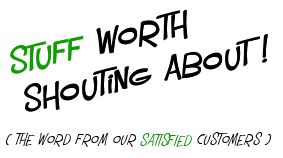 Don't just take our word for it, see what other customers are saying about Hall's Rainsaver:
Ordered the evening before last and delivered to sunny (not – hence the guttering today.  Superbly packaged.  Ironically by the time I got home it was bucketing down, so my wife and I fitted it.  The water was cascading off of the back of the curved roof on our brand new summer house and had been making the interior of the back wall wet.  Fitting the guttering took minutes and it was catching literally every drop of the deluge that had drenched the summer house just moments earlier.  I have high hopes that it is problem solved, and will be recommending this superb product to others.  Many thanks and congratulations on an ingenious and effective product.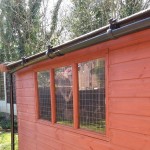 Herewith photo of my rainsaver on garden shed in Wigan. Thank you very much – just the job!
Excellent product ,only took 10mins to fit to shed (would have been 5mins ,but my better half insisted on helping) will be ordering another 10ft piece soon for the other side of my Kettering shed.
What a great product, will definitely recommend. Our next door neighbours garage, which has a corrugated asbestos roof, was pouring rainwater all over the side of our shed, and being asbestos we didn't want to drill or damage the surface of the roof. With their permission, we fitted your kit to their garage roof and now our shed is drying out nicely. Many thanks to you all for great customer service and a great product.
Very easy and quick to fit. Highly recommended. Wish I'd found your site sooner!
Just what I needed, delivered quickly and installed in minutes.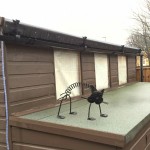 Cannot recommend highly enough, fast delivery and is so easy to install, many thanks
My 10ft wide shed was becoming damp as it had no gutters, so I went to my local DIY supplier and priced up all I would need and then realised it would not go in the car. On returning home I went onto the internet to see if there was a simpler solution. Hey presto – Halls Rainsaver ltd, kit ordered on the Saturday, it all arrived on Tuesday morning, fitted in less that an hour and works a treat. Brilliant.
The product is as good as I thought it would be and their customer service is first class. They replaced a part without charge which I broke due to my stupidity. This is very unusual most companies would have expected me to pay. Highly recommended.
As a 71 year old female I found this product a doddle to fit. It took about 15 minutes each side of my 6ft shed to fit. It also looks good.

I have already recommended it to female friend of a similar age to me who will most probably be ordering from you!
Do you have a testimonial to add? Please leave it in the comment box below or email us at our support email address. You can also email us a picture of your Rainsaver installation and we'll gladly attach to this page!