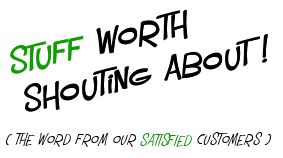 Don't just take our word for it, see what other customers are saying about Hall's Rainsaver:
I just got an allotment and the Rainsaver products are so quick and easy to put up, it's just ideal, and I've two more for the shed in our garden… put it up yesterday and looking good just need to get a nice pic, the sun was in the way. It's a great piece of kit, I would recommend it to anyone.  The fact I keep coming back to buy more products speaks for itself.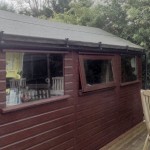 I saw this looking at guttering on 'tinternet' for my 16ft workshop on Tuesday 22 April. It did work out a bit more expensive than the traditional way but I thought, what the heck, give it a go.

So one telephone call to Keith the owner who was very helpful, to discuss my order, I placed the order at 12.30 Tuesday.
Next day I was holding a box containing my new guttering. So far so good.
Thursday morning, open the box, goods very well packed and presented. So, to the task of installation and set up.

One word….WOW! Honestly, less than 15 minutes from open box to install, set up and test with hosepipe on roof with perfect end result.

Keith, brilliant product mate. I will order again for the other side. Yes, it does on the surface seem a lot but for ease of fit, time saved and if I need to move it for painting etc, it works for me.

All best
Andy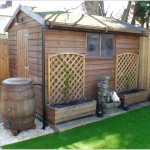 This clever piece of kit saved my bacon.  With days to  go  before a new arteficial lawn  was to  go down I realised the run off from the shed roof would ruin it.  Having bought the 12ft Hall Shed gutter I then bought a barrel butt for use with a  rain diverter, only to  find the only mini gutter diverter was from  flowplast, and used a slightly different downpipe size.  Luckily the gutter size was the same. So  the whole downpipe system  from  top to  botton is from  flowplast.  A very neat solution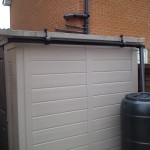 Saw your product on United Utilities web site, it was just what I needed, quick and easy to install. I was thrilled with the speedy delivery. Having just had a water meter fitted this helps with our water saving. Can't believe that somebody has come up with something so simple and efficient. Thank you.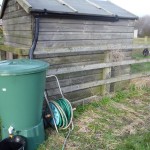 For years I wanted to get a gutter on the greenhouse and never got round to doing it, and when I saw yours it seemed like the answer. It's worked well and easy for me to do. I've got some chickens and ducks 200 metres from the house and a hosepipe, so now with a rainsaver attached to the goats shed with a water butt, I don't need to have this hosepipe laying all over the garden!
Excellent service! I ordered a 2m flexible downpipe with clamp on Dec 30th, which arrived in Guernsey early morning Jan 2nd. The product is exactly as described, of good quality and is now in situ and doing exactly what is required of it. Thank you Hall's!
I have recently had knocked down an old brick outhouse and replaced this with a 7ft wooden shed. As my garden is very waterlogged I wanted to fit guttering to a water butt. After searching and pricing guttering I (and wondering how complicated this would be to fit) I found this website. I ordered the 8ft set which arrived within 48 hours and, surprisingly, I fitted this as it was so easy within an hour of it arriving. To say I am pleased is an understatement.
I have received and installed my guttering kits – amazing – took longer to get the old one off than to install new one. I am a widow, aged 69, so if I can install the guttering anyone can.
Just ordered another 6ft guttering kit, I'm thrilled with this system not only does it collect precious water but the guttering stops water collecting at the base of the wooden bearers of my newly erected shed. A guttering must for every shed owner !
What a fantastic product and service!  Living in north Scotland next day delivery is often not available, but the kit I ordered did arrive the next day and I was able to fit it to my shed in minutes.  I am so pleased to have found this as, like others, I live in rented accomodation and am delighted to be able to take the system with me when I move on.
Do you have a testimonial to add? Please leave it in the comment box below or email us at our support email address. You can also email us a picture of your Rainsaver installation and we'll gladly attach to this page!