Bendy Downpipe!
Announcing our latest product – the Hall's Rainsaver Flexible Downpipe!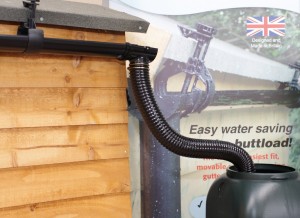 This innovation has been quietly developed for a while now – it has been quite a task trying to source pipe of suitable characteristics (diameter, flexibility, weight, colour, outdoor use), and a clamp that not only works with the pipe but is easy to fit without tools like our other products.
Having evaluated countless options we are finally there, with another product we can be proud of which hopefully makes life even easier, giving more flexibility to our guttering solution for garden buildings!
The pipe comes with a hand-tightened wire clamp that simply grips onto the stop-end outlet in lieu of the existing 1m rigid downpipe in the Rainsaver Gutter Kit, and is flexible and lightweight enough to bend round corners.
Various lengths are available from 1m to 3m, please see the following link to be taken directly to the shop product page.
Flexible Downpipe for Guttering