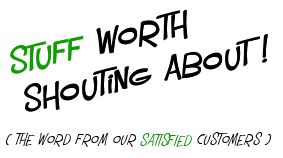 Don't just take our word for it, see what other customers are saying about Hall's Rainsaver:
Very clever design. Ready made kit that takes away all the hassle of putting guttering on a shed. Very simple to set up. Just my luck that we've hit a heatwave now and no rain forecast for ages! Looking forward to a downpour now to fill the water butt up! Highly recommended.
I'm not a DIY expert and this is perfect. Slide on to the guttering, tighten fixing to roof and done. Will recommend to everyone.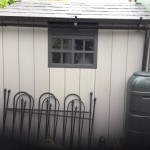 So pleased with this guttering clamped to our Keter shed, that's why we've just ordered another length for the other side of the shed.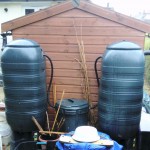 Ordered 2 x 6ft kits a while ago for either side of our shed (photo attached – the dustbin in the middle is the overflow from both  waterbutts).  Simple but effective and very easy to install.  Have just ordered another kit for tool store. Amazed at the amount of water collected. Have recommended you to friends and family.
This water kit is amazing! Great to install( i am a 60 year old woman !) This has made the job so easy thanks again.
I ordered a 10ft Gutter Kit late on Tuesday evening. It was delivered this afternoon (Thursday) and took me less than 15 minutes to fit (including time to get the sticky tape off and open the box!) Now all I need is some rain, is that included in the order or would that be extra?
Absolutely excellent 5 mins to fit in my new Palram pent shed
I bought the 20 foot long guttering setup for my work shop, it was so easy to put to up very straight forward, this works really well managed to harvest loads of water in a short period of time.

I did have two (union) clips break on me whilst fitting but after a quick phone call these where replaced, with no fuss I would highly recommend this guttering system to anyone it might seem expensive but after having it a little while now its worth every penny.

ill be buying another 20 foot gutter soon for the other side of my workshop
Ordered it late Thursday, was delivered first thing Monday morning, very pleased thank you.
Delivery time and packaging was excellent. Rainsaver kit was very easy to fit……Highly recommended.
Do you have a testimonial to add? Please leave it in the comment box below or email us at our support email address. You can also email us a picture of your Rainsaver installation and we'll gladly attach to this page!