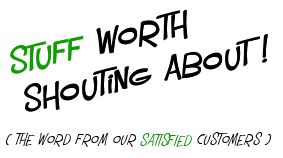 Don't just take our word for it, see what other customers are saying about Hall's Rainsaver:
Received 12June 2020 , fitted to my shed , in the rain and I'm now saving rainwater. Many thanks.
I wanted to write and tell you how delighted we are with the guttering and flexible downpipe we purchased from you. I rang you on Tuesday, it arrived this morning and was in place by lunchtime.
It looks smart, does the job perfectly – we couldn't be more pleased; a really great product, and really good value for money, many thanks.
Hi, just a note to say how brilliant your product is (rainsaver with water butt pipe).

Everything is great and it feels such a quality product with obvious thought gone into it's design.

I fitted it within 5 minutes , with no tools and it's now supplying water to be stored for my garden.

A great British company and product.

Thank you.
wow!!I was looking on you tube for how to put up guttering on shed and came across these people demonstrating the clips. No reason for me to risk damaging shed now I thought. Ordered Friday after 12 and arrived here first thing today ( Monday)Brilliant service. Thank you. Guttering up no problem.Will use again when I extend.
This has got to be the best way to put up a gutter…ever!! I ordered it on Saturday and with the C19 lockdown wasn't expecting it for over a week but it arrived on Tuesday (and I'm in Scotland). I ordered two 14 foot gutters and had them both installed onto my Caroline shed roof in less than 20 minutes – most of that was opening the very well packed items. I looked at traditional guttering and the cost difference is minimal but with Halls there is no hassle with drilling and fixings. I can't recommend it highly enough.
As always, the best designs are the simplest. The Hall's rainsaver guttering kit is easy to fit, with great customer support when needed. The instructions are clear and concise. I would add that the first instruction should be to offer up the brackets to the shed roof first, adjusting them so that they are a slight push fit on the roof structure. Remove them then assemble them to the guttering. This makes it easier when positioning the guttering onto the roof. Great product.
Very clever design. Ready made kit that takes away all the hassle of putting guttering on a shed. Very simple to set up. Just my luck that we've hit a heatwave now and no rain forecast for ages! Looking forward to a downpour now to fill the water butt up! Highly recommended.
I'm not a DIY expert and this is perfect. Slide on to the guttering, tighten fixing to roof and done. Will recommend to everyone.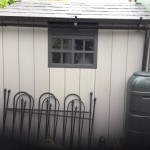 So pleased with this guttering clamped to our Keter shed, that's why we've just ordered another length for the other side of the shed.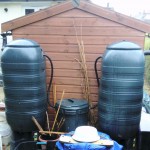 Ordered 2 x 6ft kits a while ago for either side of our shed (photo attached – the dustbin in the middle is the overflow from both  waterbutts).  Simple but effective and very easy to install.  Have just ordered another kit for tool store. Amazed at the amount of water collected. Have recommended you to friends and family.
Do you have a testimonial to add? Please leave it in the comment box below or email us at our support email address. You can also email us a picture of your Rainsaver installation and we'll gladly attach to this page!